On Monday 13th June 2022, we again contacted Black of the Third Order, the Secret Chiefs, the Bodhisattvas, the White Lodge. Tommie and I enlisted the help of our good friend Nuggan, Jason as his Mammy knows him, to act as the in-between. He's hooked up to a radio sweeping quickly through stations and repeats the words he can make out. He's blindfolded and cannot hear out questions or comments.
What's going on in the World?
Monday 13th saw 1000s of people fleeing their homes across the Western United States as wildfires raged and ranged from California to New Mexico. Already this year has seen double the 10-year average for forest fires in the US but still we have people who believe that climate change is a hoax. It's a strange old world we live in, even as the planet literally burns people won't accept the fact that we're living in dangerous times.
Boris vs Ireland
In Ireland and the UK the idiotic gombeens at the Conservative Party have decided that they want to break an international treaty with the EU regarding Brexit and the Belfast/Good Friday Agreement because, well, to be honest there isn't really a good reason as to why they're doing it. Head bottle-washer and all-round hapless buffoon Boris Johnson said 'it's not a big deal' while the people on the island of Ireland are terrified that it can lead to a resumption of fighting between Nationalist and Unionist paramilitaries.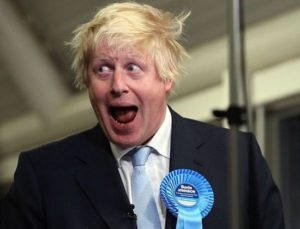 The issue comes down to this; the British agreed that Northern Ireland could stay in the EU Customs Union (CU) since Northern Ireland (NI) has a land border with the Republic of Ireland; if the Nordies hadn't been allowed to stay in the CU this would have meant border checks at all 300 border crossing along 499km of the border. No doubt the British wouldn't have bothered providing staff for such an undertaking and we'd have seen British Army soldiers on Irish soil. Again. Nobody wants that. So, because NI is allowed to stay in the CU that means, thanks to Brexit, that a whole load of paperwork is needed for Scottish, Welsh and English firms when exporting to Northern Ireland and vice versa.
Northern Irish firms need no such paperwork when exporting to the EU, none more than other EU exporters anyway. The Conservatives don't like this even though 61% of Northern Irish voters voted against Brexit and didn't want it. So, now they're being forced to take the British Hard Brexit. Why? Well, the Unionist Party, (made up of those who want to be British even though were born on an island that isn't and has never been British) who recently, for the first time since Northern Ireland has had a parliament, lost their majority in said parliament, are looking to appease their hardliners and have the same ball-breaking Brexit as their English cousins even though Northern Ireland's economy has actually done quite well out of Brexit. Sinn Fein, the party of the (mostly-Catholic) Nationalists who won the majority don't see an issue. Oh, and of course because the Unionists didn't win the last general election they're refusing to go into power with Sinn Fein even though they democratically lost. Even though everything would be run in a 'power-sharing way' because y'know, it's effing complicated up North.
If you understood all that I congratulate you but we can sum it up in a word; clusterfuck. Politicians in Dublin have said that relations with the UK i.e. the Conservatives, are at their worst point since Ireland became an independent nation (this includes the Anglo-Irish Economic War of the 1930s). The fact the Conservatives even see it as a non-issue is outrageous and while they're happy to send arms to Ukraine (for a fee obviously; British governments will sell arms to anyone and everyone) under the pretence that they're helping a country defend their right to exist and the consensus of the people they don't actually give a flying fuck about the consensus of the people of Northern Ireland and/or Ireland and/or even their own country/countries. Yea, one word; clusterfuck.
Sievierodonetsk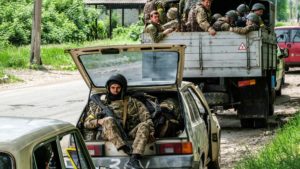 Speaking of Ukraine, the battle for Sievierodonetsk rages as the Russian invaders now hold the upper hand and have pushed back the Ukrainians to the outskirts of the city. Here's the thing about that, to the West of the city are on the other side now of a deep river and they'll have the high ground meaning they'll be able to snipe their way back in as they slowly but surely pick off the Orcs. It turns out that over the past few days that Sievierodonetsk is somewhat of a symbolic battle for Russian dictator Vladimir Putin as it was one of the last Ukrainian cities to declare for Ukraine. Over the coming days and weeks we'll likely be looking at the battle for Kherson in the South of the country as the natives move on retaking the city and taking on their largest counter-offensive mission of the war so far. Sievierodonetsk may well turn out to be another Mariupol; a battle that takes up Russian resources so Ukraine can strike elsewhere.
In Australia a newspaper writer (I wouldn't call them a journalist) apologised to Australian actor Rebel Wilson for outing her as being gay as the publication in question featured an article of the Bridesmaids star along with a photo of her and her girlfriend. They took down the article. What a strange world we live in that someone can't have the privacy of their lovelife respected. Do people really want to know this stuff? Ask people and they'll say no but it's still the kind of nonsense that makes up quite a high amount of the content in raggy magazines you'll find in waiting rooms. And the Daily Mail, which isn't good enough to be used as a rag.
The Third Order
This was the state of the world we found ourselves in when we contacted Black once again. We had some questions we needed answering and they were somewhat to do with the recent Ultraterresitial Hunt/Ritual which although went kind of well; something didn't sit right. First of all there were two, even three distinct entities, and in the first session it was quite creepy and, well, a bit of a dick. In the second one it was mostly one voice and then another came in and it really didn't seem to like one of us taking part.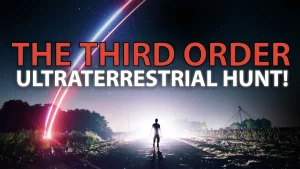 Now this led to us doing some soul searching and really we want to find the best way to speak to these entities without annoying them. I've to take much of the blame here as for the questions for the Ultraterresitial Hunt I submitted the majority of them as I was keen to know all about this Indrid Cold character and why he'd 'been abandoned by the Third Order' as the case was made in Hellier. More questions about Hellier and connected issues followed but it seems the Third Order are only interested in awakening humanity, which is a tough ask as it is so they've not all that bothered about 'material' things. Still though, who better to ask about an issue regarding the supposed Third Order than the Third Order? I really don't know the answer other than; the Third Order.
The point to remember though is if you're going to be contacting the Third Order, the Bodhisattvas maybe it's best to ask them questions about those things. Lesson learnt.
We chose as well, to stop butting in with questions to allow whatever it is that's speaking through Jason to speak so we elected to do three sessions, 10 minutes of an intro, three questions with five minutes allocated for each answer and then a closing 10 minutes.
Here's the transcript and you can listen along to it (without the silences) here.
Tommie: We would like to call in BLACK who is part of The Secret Chiefs, of the Great White brotherhood, Bodhisattvas of the planet, who previously told us that we could call on him.
Jason: Hey guys.
Tommie: Hi, how are you?
Jason: I'm coming in hot.
Tommie: What our intention today is to–
Jason: It's funny, to be doing this.
Tommie: Okay, why is that?
Jason: Are you ready?
Tommie: Hope so. Our intention today, BLACK, is to each ask a question, including the question from Jason himself.
Jason: Nothing strange, please.
Tommie: Okay. That's fair enough. We actually as much as possible, want to leave it open-ended and leave it over to you to talk more, rather than us constantly interrupting you because as you can see already, I'm doing it! And so just to kind of very–
Jason: Okie, dokie!
Tommie: We're trying our best to find the best way of doing these communications and to not be, I suppose, rude or insulting, or in some way impolite. So please know that all of our intentions are always positive and that if we do in any way cause any harm, it's certainly not where we're coming from.
Jason: You're becoming masters.
Tommie: Well, we're trying our best to learn from our previous mistakes. And we hope we haven't in any way sullied our relationship with you. So, is there anything you would like to share with us today before we get into the questions?
Jason: Playful. Enjoy. Let's tune in so we don't ruin it. Are you getting pretty comfortable?
Tommie: Yea.
Jason: All right. You're welcome.
Tommie: Okay. Can you give us some feedback on the last session that we had with the being called NOTHING?
Jason: Earthenware. It's good. Oh, the Master. Thank God for that.
Tommie: As in calling in?
Jason: Finally.
Tommie: We called in The Master today. The Servitor.
Spud: Or Nemo's the Master.
Tommie: Yeah, Which were you're referring to because we called–
Jason: Alrighty then.
Tommie: Master of the Temple, or, The Master servitor?
Jason: There are 12 here to talk to you. But this is fine. How is your air conditioning?
Spud: It's very warm here.
Tommie: I actually got a new air conditioner a few days ago. My wife gave it to me.
Jason: I hope it's not too much.
Tommie: Well, I have to switch it off when we're recording, so. BLACK, can you tell us something about the screams that occurred last time, during the last session?
Jason: I hope it's not condescending really, but it's approaching the zone of overt philosophy. Unnameable. In the air. What's the first round of questions?
Spud: Ask him about the Ultraterrestrial thing again. BLACK, when we contacted Nemo- nobody, were our questions inappropriate? Did we do something wrong?
Tommie: Why did it feel so weird after it compared to the other sessions?
Jason: Well, honestly, I'm not thrilled with you. For the company.
Spud: Interesting. Could you elaborate on that?
Jason: Pain. Conversations for dollars – never! But we'll get back to the prophecies.
Tommie: Okay. And I want to reiterate that it was never our intention to annoy you or to inappropriately contact you, or do something inappropriate. It's a learning experience for us.
Spud: I want to ask something there, Tommie. Time looks like only a minute or two left. From–
Jason: I am BLACK.
Spud: BLACK, from, the teachers that humanity has had over the years. Is there any particular ones that you would like us to spend some time with, learn from, read their books?
Jason: The one that I asked you for a piece of, you don't know yet.
Spud: That's cryptic.
Jason: But it will come.
Spud: Okay.
Tommie: Okay. So, as we come to the end,
Jason: Your credit is good.
Tommie: Time is running out here. So we will be moving on to the questions in separate sessions just to delineate them. So, is there anything you'd like to say before this session ends? We will talk again really at the end.
Jason: Every day, it's only making the world!
(it sang the words, the world.)
Coming to joy and wonder. A playful song is on us. If you slow down to listen.
JASON'S QUESTION
Tommie: Jason wants to know what, if anything, should he be aware of regarding the growth towards his next awakening
Jason: On it. This summer.
No trouble for you, and It's going to be a lovely, heavenly, good development.
Just a sec. The details. Are you ready?
Over and over again. Number four is spectacular and imminent. Don't worry. Have faith; you'll understand. According to him, it's already part of you.
(There's a lot of music playing.)
Patience, and fondly you will love it.
An invitation. It's good to find the others. Synchronicity. Yeah, that's right. Don't wait until the stranger finds you first. Have a good chat online with the new friends. It is certain this leads to the next shot.
TOMMIE'S QUESTION
Tommie: What should I know?
Jason: Oh, Tommie, everything!
(I'm hearing laughter.)
Will you be satisfied? You're good, great even. You'll find yourself. Restrictions apply. One needs to pull together. I know it sounds fucked up.
1 and 2 in safety. It's a party!
Let's give you having to deal with the confusion a break. It's all grand, just back up 100 out of the basement. Erect your soul in the light. Don't worry about what that means. Just take my hand; you're going to be proud of yourself.
I just know why it hurts, Tommie, and there is relief at the Oasis. An offer direct.
SPUD'S QUESTION
Spud: Hello, BLACK. Spud here. Big fan of your work! Regarding my true will, BLACK, how best to integrate it in the wider world?
Jason: Numerous emergency actions are impossible. Focus on today. It's good.
Here's one. Campaign, if you take it up. I hope you're alert and never stop. Don't stop it, Pat.
(I hear the sound of like children playing like at a playground or something like that, like just laughing and shouting.)
This is the dream. This! Just know it. Just come and join in for these reasons. Down the storm.
It's good to look out for problems, but you can't be so vigilant every vacationing day! He will counsel you.
If you call second and come back now we can journey and find new ways to share. It's not just one thing, but a lifetime.
ENDING SESSION
Tommie: Well, thank you very much, BLACK. That was immensely helpful and very generous. And it seems like the communication is really clear today. Is there something we did better today than previous the other days so that we know to future?
Jason: (I'm hearing trumpets like, uh, like a fanfare.)
Spud: This guy knows our sense of humor, man.
Tommie: Are you Irish, BLACK?
Spud: He did say "grand", earlier.
Jason: Might be!
Tommie: Right. Okay. That's interesting. It's very hard to know what to say now.
Jason: Good chats with our family.
Spud: Yeah. That was a good chat. Thank you. We'll all get a lot from that. So thanks very much.
Jason: You're welcome.
Spud: Yeah. There was something that you said in the first session before we took up the three individual questions. And you said something about a prophecy that you will return to the prophecy. So what's that in —
Jason: Tune in now.
Spud: What's that in reference to?
Jason: It's a fine thing, gentlemen, now. The wisdom- it's a miracle.
It's important how you question me. Be respectful, and be awesome. Why wouldn't I want that?
When it comes to what you don't think you know – it's mobile, what the words are, honestly. It's ephemeral. So don't worry about it.
It's here now, our plans. It seems impossible. At no point should this work. But I'm really, really, really fantastically, devilishly, rather than on autopilot, thankful for human awareness, exploration, imagination. That fine thing. It's important to have it checked. It's incredible. If you wait.
Spud: One more, Tommie? Because time is nearly up.
Tommie: Yeah. it's just, he did tell us to wait.
Spud: Sorry, BLACK!.
Tommie: How long have we left, Spud?
Spud: Two or three minutes.
Tommie: Yeah. Because we'd say goodbye too, and all that stuff.
Jason: There is at least… we all in this moment help to boost the signal right now. Your ones too, hold the flame. [You're ones to hold the Flame?] It gets a little burny at times. I'm proud of you – don't go anywhere!
Tommie: BLACK, we're coming to the end of our time.
Jason: Well, that was delightful!
Tommie: Equally delightful for us! As always, thank you very much for talking to us and we hope we can do it soon.
Jason: An ally.
Tommie: Thank you. I appreciate it.
Spud: Awesome.
Jason: I'm never going to reveal the words. I just want some thing good for you. Like children. Cheers!
Tommie: Cheers
Spud: Cheers, yeah,
Jason: I'm really good.
Tommie: Okay. Thank you.
Spud: Us too, man. Thanks for that. Buzzer should go any–