 €45,00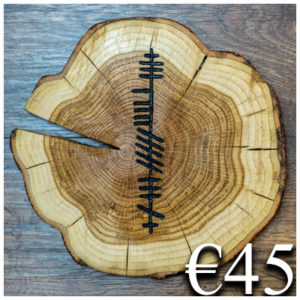 Description
Irish Ogham Writing Carved on Hardwood.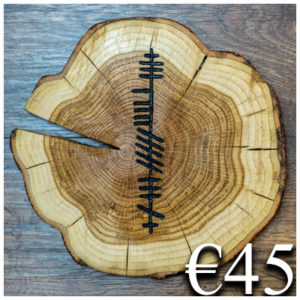 The photos shows my own name, Murphy, translated into Irish (Murchú) and then written, from bottom to top (as is the way) in Ogham.
Ogham writing first appeared in Ireland around the fourth century AD, although some believe it started earlier. The surviving stone momuments around parts of Ireland and in some parts of Wales usually denote a surname and were used as land-owenership markings. But many scholars believe it was a written language used by the local Irish instead of the Latin script as Irish words were too difficult to write in Latin. It's also been put forward that it was the langauge of the druids and tree names can be, indeed they are, connected with the letters, like in the Celtic Zodiac system.
In modern Druidry and other neo-Paganism the letters are used as a form of divination.
This image shows the Ogham for my surname; Murphy but, of course I can translate any name into Irish and then into Ogham for you. A beautiful peice of Irish heritage as a peice of home decor for you to show off your Irish roots to visitors.
If you'd like some special carved onto the front or back of the piece let me know and I'll add it for just €10: paddymurf(AT)gmail.com.
Measurements are approximate as each wood slice is slighty different. Diameter: 25cm, width 3cm.
Additional information
| | |
| --- | --- |
| Weight | ,5 kg |
| Dimensions | 25 × 3 × 25 cm |