Aleister Crowley was a scoundrel wasn't he? Making mad claims like finishing the whole Abramelin shebang on the back of a donkey in a desert; writing pro-Kaiser articles during WWI, y'know, praising the baddies, (in fairness he was shrewd enough; getting coin for being a writer for a German newspaper and as a British informant), publishing a boatload of Golden Dawn rituals he'd sworn to keep secret. Ah y'know what, there's little point in going into all the bad stuff Crowley did, we'd be here all day and some Thelemite is going get the hump and give me abuse and it's not worth it. Arguing with a Thelemite is never worth it, they're like Christian priests, they'll bring you down to their level and beat you with experience.
Suffice to say I'm not Crowley's biggest fan and no doubt by now you'll know my feelings on him from the TaSTA podcast and either way, it doesn't really matter does it? An opinion is just an opinion and sure we can still all get along, hopefully. And anyway, we can all admit that his influence on occultism has been nothing short of immense. Arguably he done more for spirituality in the Western world than anyone else previously. A case could be made for Helena Blavatsky too of course but Crowley's vastly superior output would see him win that debate surely. But if you added in Jesus then, ok, Jesus would win.
What is True Will?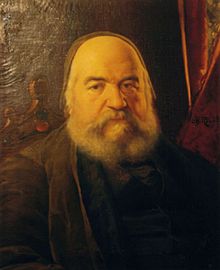 Crowley believed himself to be the reincarnation of a French chap called Eliphas Levi. Levi was an occultist, poet and author who wrote quite a bit about the term 'True Will'. He argued that the grand purpose of magick was for a person to find their True Will, i.e. to find out what they were incarnated here to do. It's a crying shame that thanks to the nonsensical, rampaging capitalist society we now live in many conflate this idea with what career they think they should have. More on that later though. Levi was also responsible for popularising the idea of Baphomet, he didn't exactly invent it but his version of it is the one that has lasted into today and the added symbology and meaning that he attached to it has seen it cementing a home in the occult world. Best of all is it's not a Satanic image at all, it was Levi's idea of 'the all'. Isn't it mad how the world sees one thing and gives it meaning which totally contrasts with what it was meant to mean? It's a bizarre world we live in.
To get back to True Will though, there are some quotes regarding True Will from Levi I'd like to have a stab at. There's plenty around the internet that even a little digging will show you why Crowley had such a grá for the Frenchman. And indeed, it's pretty easy to see why Crowley would at least have wanted to be the reincarnation of his French hero, they were singing from the same hymn sheet so it made sense.
"The Great Work is, before all things, the creation of man by himself, that is to say, the full and entire conquest of his faculties and his future; it is especially the perfect emancipation of his will." The Doctrine of Transcendental Magic.
Doesn't take much to see what he's getting at here, the Great Work, i.e.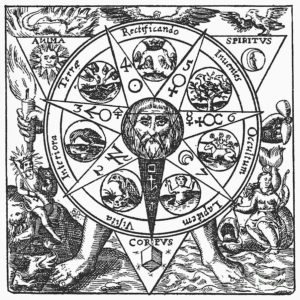 enlightenment, awakening, individuation, samadhi etc. is nothing more than a person becoming the best version of themselves, achieved by their own doing and it is the process of freeing their soul. I can only speak from personal experience here but I would have to agree wholeheartedly with the above quote about what my experience of the Great Work has been. In the most simplest terms that I can put it into, for me it is; to endeavor to become the best human I can be. That begs the question though, how do you do that? The first step would have to be connected with the accumulation of knowledge, learning more about the self, the yin and yang, the good and bad, learning about our individual biases, conditionings etc, where they come from and the illusionary nature of them and learning more about spiritual practices to stay on the proper track. Let's look at another:
"Every intention which does not assert itself by deeds is a vain intention, and the speech which expresses it is idle speech. It is action which proves life and establishes will." The Doctrine of Transcendental Magic.
My spin on this then would be; Doing something that does not prove its worth in the very act of doing it is worthless and to speak about doing things which are akin to this are just a waste of breath. Mindful action is life and it helps creates the real person. Again, aren't we looking at learning here, learning and meeting challenges? By doing, by creating and learning to create, by loving, by simply being we are living and carrying out our simple, collective destiny; to be. Knowing that we are 'being', this is what 'free will' is, the choice to know that we are here and alive via our senses and our mind and knowingly experiencing them without identifying with them. Basically, a distancing of the identified self from what the self is experiencing right now.
Finally then what would have to be my favourite from the quotes I've dug up from Levi.
"Everything is possible to him who wills only what is true! Rest in Nature, study, know, then dare; dare to will, dare to act and be silent!" Transcendental Magic: Its Doctrine and Ritual.
The world is your oyster if you act with honour. Rest in nature, study and learn, be brave, be brave to be yourself and just. And don't boast. Yes, I have to say this one speaks the loudest to me, it's very stoic and y'know too, it's something I should be more mindful of. I know too well that I can have a bit of a mouth on me at times and I feel I would be far better served and more in-tune with my own nature if I didn't feel a need to impress others. Because when it boils down to it, what is an attempt to impress others other than an attempt to impress yourself because you don't see yourself as an equal to your peers. Rural Ireland left me with a deep love of nature but also with about as much self-confidence as a lame dog coming into his last weeks in a government-funded shelter.
What is True Will?
To enjoy nature and to learn. Man, Levi, were you alive today I'd be all over your newsletter and YouTube videos. There's no point in going into my love of the outdoors here, you already know how much I love getting into forests or walking mountains or getting up on a horse, or doing all three at once. As for the learning part, what I honestly find so appealing about living is the constant learning and the challenges. Lord knows I've failed a million times at things and will do so again, and again but to learn from every experience fills this old nerd with excitement and yes, there have been plenty of times when I've not learnt something for years and years and it's taken something drastic for it to smack me in the face but eventually it turns up.
I remember in secondary school, high school for you lads across the water, we were learning about scibes in early, Christian Ireland, reading and learning the holy books and copying/rewriting them in Latin or Irish and that blew me away that you could have such an amazing job as learning and writing. Sign me up lads. I'd be a crap monk though in fairness, randy head on me, I'd be chasing village maidens and missing mass.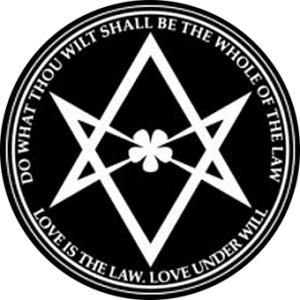 We can easily see then why Levi was such a hit with Crowley and far be it from me to say he wasn't Levi reincarnated. He might well have been for all I know but just from those quotes alone we can learn a great deal from Levi and his ideas about what true will was.
Crowley obviously ran with the idea and even the name 'Thelema' more or less translates as 'will' and sure isn't the process of Thelema all about reaching your true will/self?
What I find both cool and fascinating about Crowley's Thelema is that for the small number of actual practitioners of the religion/philosophy/(can we say cult?) it's had an incredible influence on occultism and spirituality. Everyone and his dog seems to be in search of their true will or Crossing the Abyss or trying to get a Tinder match with their Scarlet Woman and even with the Tarot cards, Crowley's Thoth Tarot kicks ass compared to the, snore, Rider-Waite deck.
But…there's always a but isn't there?…you read up on what True Will means to people and they harp on about nonsense like becoming a film maker, or a writer, or an artist, I even came across a video where the person said 'content creator'. OK, look, let's put the brakes on the judgementalism here and say, cool, at least these careers are creative. Imagine you undertake the Great Work in the Thelema vain and you get to K&C with the HGA and she turns around and says "Yea, look mate, you're going to have to change your name to Nigel, get some brown suits and you're going to be an accountant for the income tax department in Roscommon because that's your True Will bucko". Do you honestly think that True Will is a job? As a society we didn't even really have jobs until what? A hundred years ago? Maybe a bit more if you're from the heartland of the industrial revolution but I'm from rural Ireland and living in what would be classed as a rural town in Poland. Up until 50 years ago you either farmed some land or you built things and your purpose was simple; live as best you can, with honor and dignity, be just and help when called upon.
I struggled with the concept of True Will for an awful long time, well, not in the grand scheme of things and sure afterall, time isn't real anyway, but you get me. Tell you what, I'll put it another way. It was doing my head in. I've had all these amazing mystical experiences, I've spoken with gods and told Satan to blow me, felt the breath of angels and union with the One. I've even taken disco biscuits with Carl Jung, he some chap that lad. But, then to have this kind of grey cloud over my head, what am I supposed to be doing, what's my True Will? Wasn't I supposed to be writing books and scripts and screenplays and horsing speedballs into me on the Copacabana by now?
No, I wasn't. Because if I was I would be doing them all now. And what am I doing instead? Learning and being and being and learning and sharing what's been learnt along the way to help if possible. Much love brothers and sisters, our True Will is one and the same.